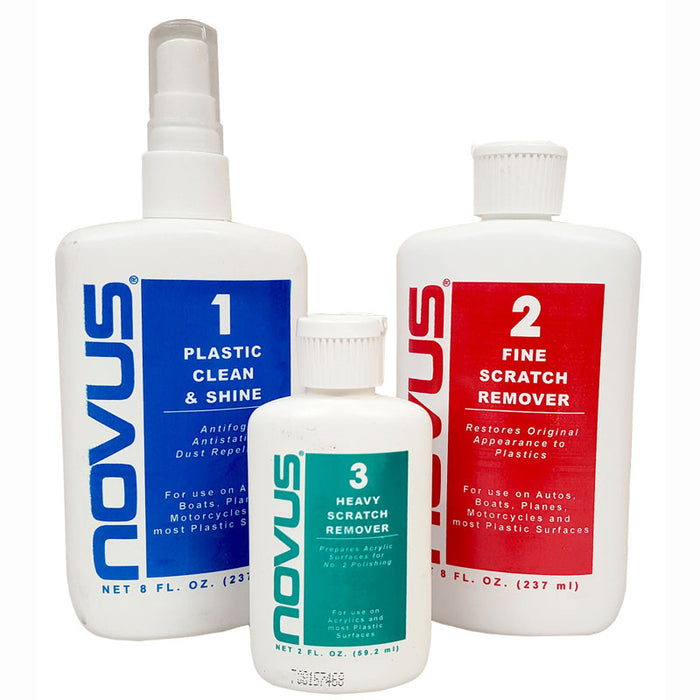 NOVUS Acrylic Cleaner & Polish
Original price
$26.00
-
Original price
$26.00
We highly recommend these high-quality products for caring for all Arctic Tern Products including the windows, roof hatches, powder-coated entry doors and cargo access doors.
​NOVUS No.1 - Clean and Protect
Gently cleans all plastics without scratching.  Leaves a lustrous shine that resists fogging, repels dust and eliminates static.
- Resists fingerprint marks
- Contains no abrasives or harsh chemicals or ammonia
- Leaves a smooth, clean, greaseless shine
- Makes a great cleaner/polish for powder coated surfaces
NOVUS No. 2 - Restore and Finish
Removes fine scratches, haziness and abrasions from most plastics.  With repeated use, NOVUS No 2 restores faded and discolored plastics.
- Removes the damage instead of filling it in
- Buffs out quickly
- Not recommended for use on coated plastics
NOVUS No. 3 - Repair and Prepare
Removes heavy scratches and abrasions from most acrylic surfaces.  Use when damage is too severe to be restored with NOVUS No. 2 polish.
- Requires use of NOVUS No.2 for final finishing
- Not recommended for use on coated plastics.
​Include with your Arctic Tern Product order and it ships for free.
Contains:
NOVUS No 1=8oz
NOVUS No 2= 8oz
NOVUS No 3=2oz
​