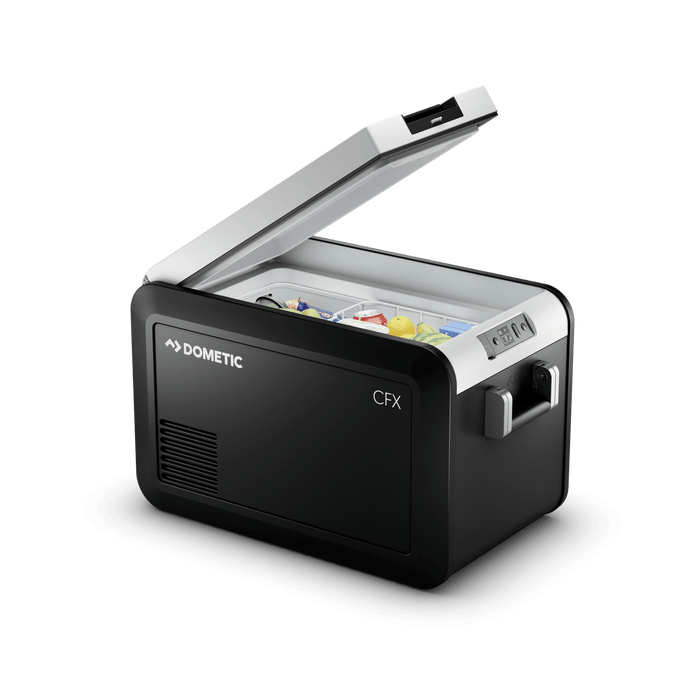 DOMETIC CFX3 35 Compressor cooler
Original price
$879.99
-
Original price
$879.99
POWERED 12 VOLT COOLER, 36L
CFX3 35 compressor cooler
The Dometic CFX3 35 Compressor Cooler is the perfect cooling solution for adventurers or outdoor enthusiasts looking to keep their food fresh on the go. This rugged cooler was designed with off-road environments and power sources in mind, and is capable of reaching temperatures as low as -7°F while using less energy than a 60W light bulb. Not only will this cooler save you money on your electricity bill, but it can be powered by AC (110-240), DC (12 volt / 24 volt), or solar power. Additionally, when you're relaxing at camp with your food stored safely away, you can monitor and adjust temperatures for optimal performance through its user-friendly phone app. And because Dometic took extra steps to isolate noise and reduce vibration in their powerful compressor motor, you'll be able to enjoy a peaceful camping experience free from distraction. Whether you're a camper, a hunter, or an outdoor enthusiast, the Dometic CFX3 35 12 volt electric cooler is your best bet for keeping food fresh on the road.
Dimensions product depth
 27.32 "
Dimensions product height
 16.02 "
Dimensions product width
 15.67 "
Product depth w/out handle
 24.80 "
Net weight
 37.26 lbs
Total volume (IEC 62552-3)
 36.00 l
Power Supply Cable Length AC
 6.6 ft 
Power Supply Cable Length DC
 6.6 ft 
Amount of cans (12oz/375ml)
 50 cans
Input voltage (AC) 120 V
Input voltage (DC) 12/24 V
Rated input current (AC) 0.78A at 120V A
Rated input current (DC) 7.5 A
Input frequency 50/60 Hz
Scope of delivery 1 cooler, 1 manual, 1 Connection cable for 12/24V connection, 1 Connection cable for 120V connection, removable wire baskets 
Single or Dual Zone Single 
Product Description Powered 12 Volt Cooler, 36L 
Refrigeration technology Compressor 
Warranty (Months) 5 Year Limited