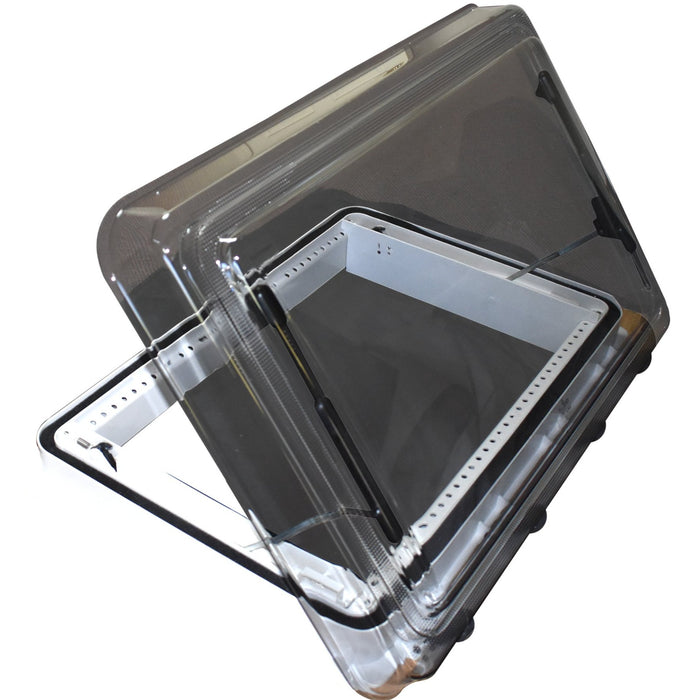 Deluxe Arctic Tern Roof Hatch 500x700
Original price
$84.00
-
Original price
$2,033.00
The Electric Deluxe Roof Hatch features a rain sensor designed to close an open roof hatch if it is raining and water contacts the sensor.  The rain sensor override switch allows for control over the rain sensor.  A motor disconnect switch interrupts power to the motor controller and allows the operation of the roof hatch using the button on the trim.  A remote control opens and closes the roof hatch from a distance and a switch on the trim can operate the roof hatch without the remote
The Arctic Tern Electric Deluxe Roof Hatch is a wonderful addition to your camper or van.  It is available in electric drive only and features a German-made Bosch drive motor and a removable emergency hand crank.  These hatches have been tested to 5000+ cycles with no failure.
The Roof Hatch features a breathable seal that prevents the entry of dust but allows for some breathability in the cabin.  The dome is smoked double pane acrylic.  Like all Arctic Tern window panels, these are European-made and meet strict ECE/DOT standards for UV resistance and impact.  It features a pleated retractable screen and blind.  The body of this hatch is high-strength white ABS.  Bright white LEDs can serve as primary light in most cabins.  Mounting is by adhesive and clips.  This hatch requires 12V service.  The interior trim extends down 30mm/1.18".  
An optional Spoiler is available.  This unique spoiler has a white acrylic exterior laminated to a fiberglass interior layer.  The result is a beautiful smooth finish with exceptional strength.  Mounting is by 3M high strength tape and screws.  This spoiler is highly recommended if the front of the hatch is exposed to high-speed oncoming air/water.  If the hatch is mounted behind a solar panel or other windbreaks, it would not be necessary.  The spoiler reduces cabin wind noise.           
Please choose your standard roof thicknesses from 30-41mm, 42-69mm

*Expansion Ring available for roof thicknesses from 70-84mm/ 2.75" - 3.30"

Sits above the roof about 5"

Sits below the ceiling a little over 1"

Does not have a fan